Money Moves, a weekly pop-up series, is a partnership between ResearchPRO and the Royal Oak Initiative.

Inspired by the 1964 Freedom Summer project which was the volunteer campaign launched in June 1964 to register as many African American voters as possible in the state of Mississippi. While this is not a voter registration project, this is a fundraising education project. This is leveling the playing field of fundraising. With 23 years of expertise and billions of dollars identified, ResearchPRO Founder and CEO Regina Alhassan is on a mission to bring the science of fundraising to Black-led and Black-serving nonprofit organizations.
Nonprofit leaders are encouraged to drop in for advice around building a robust fundraising plan and identifying qualified prospects for annual and major gift support. Wealth inequities and a lack of diversity are persistent challenges in philanthropy. But the science of fundraising closes the gap. Every nonprofit deserves best practices and infrastructure to identify and engage their supporters to deliver sustainable impact – most especially when that impact advances Black liberation and wellbeing.
Money Moves weekly prospect development pop-ups will kick off the weekend of Juneteenth, on Friday June 16 and be open on Fridays from 11:30am to 1:00pm. We are thrilled to partner with the Royal Oak Initiative to offer this type of high-level consulting to Black community leaders in Columbus, Ohio. It's free to drop in but
registration is required.
Grab lunch and stop by The 4C on summer Fridays, June 16 – August 4.
Join us for a series of drop-in sessions designed exclusively for Black leaders of Black-serving nonprofits in Columbus.
Weekly topics include:
Growing a fundraising program
Fundraising for Black liberation
Campaign readiness
Community Q&A
Bring your questions. Discover valuable strategies and resources to enhance your organization's prospect development and achieve sustainable growth.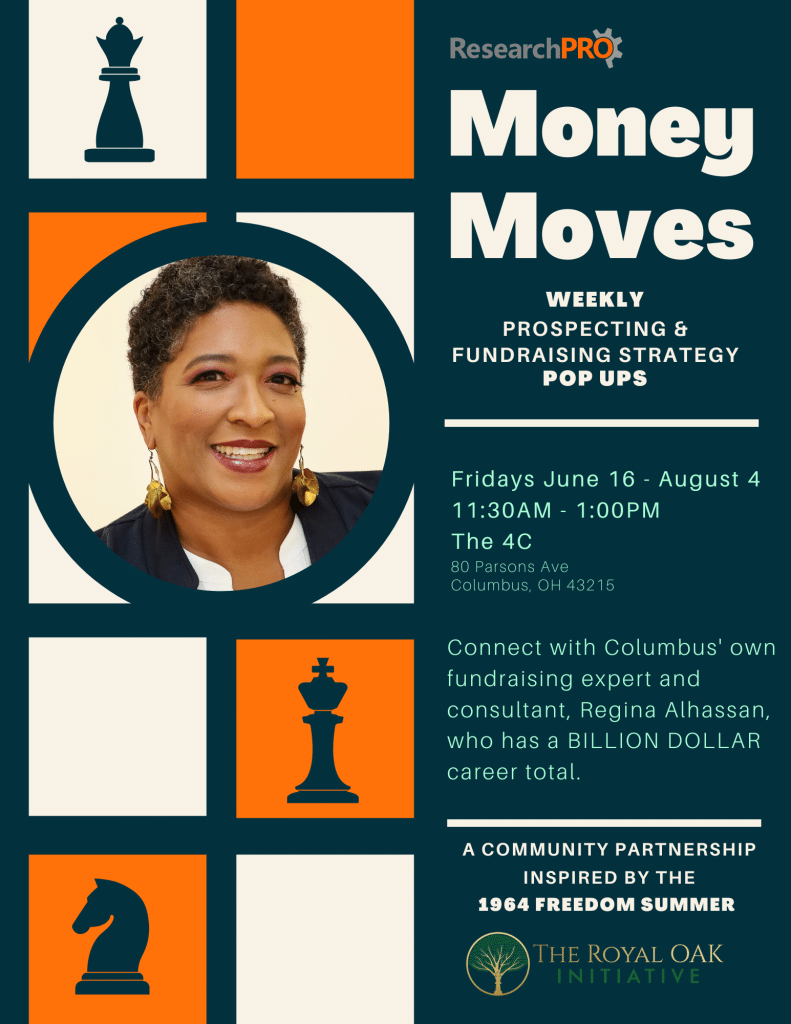 Kickoff Juneteenth celebrations by investing in your organization's future
Explore proven techniques for effective prospect development
Learn innovative fundraising strategies tailored to small nonprofits
Connect with local experts in the field
Don't miss out on this unique opportunity!
Reserve your spot today
and take the first step toward maximizing your nonprofit's potential.